Vertical antenna array with omni directional radiation pattern for systems of mobile communication
Keywords:
mobile communication, base station, radiator, antenna array, mast
Abstract
In the article development of the radiator combined with the support structure, possible for application in a system of mobile communication with vertically polarized electromagnetic waves is shown. For base stations the vertical antenna array with the omni directional radiation pattern in horizontal plane is developed. The system of the coordination, phasing and summation of radiators is located inside the support structure.
References
BALSLEY, B.B.; ECKLUND, W.L. A portable coaxial collinear antenna. IEEE Trans. Antennas Propag., July 1972, v.20, n.4, p.513-516, doi: http://dx.doi.org/10.1109/TAP.1972.1140233.
LAVROV, G.A. Cross Influence of the Linear Dipole Antennas. Moscow: Svyaz, 1975, 128 p. [in Russian].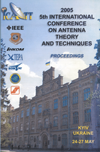 Section
Antennas for communications and broadcasting