Nonlinear dispersion effects in the microwave receiver antennas with nonlinear film
Abstract
Nonlinear phenomenon's in microwave receiver antennas were considered in [1] without discussion addition effects, which are realized by film dispersion properties. The estimation of these effects is evaluated by use [2, 3].
References
GUTMAN, A.L. Advancing of electromagnetic waves through nonlinear film in the microwave receiver antennas. Proc. of IEEE 2004 Second Int. Workshop on Ultra Wideband and Ultra Short Impulse Signal, 19-22 Sept. 2004. IEEE, 2004, p.48-51, doi: http://dx.doi.org/10.1109/UWBUS.2004.1388045.
VINOGRADOVA, M.B.; Et Al. Wave Theory. Moscow: Nauka, 1979 [in Russian].
SUCHORUKOV, A.P. Nonlinear Wave Cooperation in Optics and Radio Physics. Moscow: Nauka, 1988 [in Russian].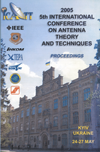 Section
General antenna theory